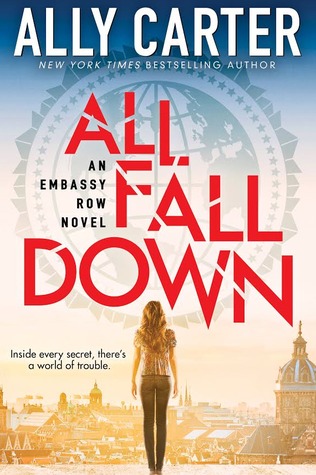 Novel: All Fall Down by Ally Carter | Goodreads
Release Date: January 20, 2015
Publisher: Scholastic Press
Format: ARC
Source: Publisher
A new series of global proportions — from master of intrigue, NEW YORK TIMES bestselling author Ally Carter.

This exciting new series from NEW YORK TIMES bestselling author Ally Carter focuses on Grace, who can best be described as a daredevil, an Army brat, and a rebel. She is also the only granddaughter of perhaps the most powerful ambassador in the world, and Grace has spent every summer of her childhood running across the roofs of Embassy Row.

Now, at age sixteen, she's come back to stay–in order to solve the mystery of her mother's death. In the process, she uncovers an international conspiracy of unsettling proportions, and must choose her friends and watch her foes carefully if she and the world are to be saved.
Ally Carter has done it again, folks. I can easily predict this one having the same fervent following as her popular Gallagher Girls series. I liked it more than Heist Society and maybe less than Gallagher Girls (partly because that series is untouchable.) All Fall Down is a intricate read told with the skill and suspense that regaled Ally Carter as a brilliant writer.
First off, the angle of the book is the coolest part: Embassy Row. It's such a fascinating feature of any capital, and I would love to learn more about it. When I read that this book would be talking about ambassadors, countries, and killers, I was immediately hooked. Working in foreign affairs is the pinnacle of dream jobs that I would never actually be able to do and I was definitely living vicariously through these kids.
The book itself follows Grace, the sixteen-year old granddaughter of the United States Ambassador in Adria, a fictional European country. She's grown up an army brat, and this is the last straw, the last place she can go considering her tumultuous history. After her mother died when she was thirteen, she's had nightmares and accidents, screaming about the Scarred Man who killed her mother.
When she's shuttled off to Adria, she's expecting it to be more of the same: incidents she can't explain, missteps, being reminded of her mother everywhere she goes. When she meets Alexei, the protective Russian who's taking care of her as a favor to her brother, and Noah, the likable Israeli-Brazilian boy who's been put in charge of teaching her etiquette, she's not expecting to find more in Embassy Rows. Things that weren't there when she was growing up.
Like the Scarred Man. When Grace finds her mother's murderer, she's introduced to a whole new level of intrigue. But this time, it's dealing with countries, and rulers. What is it about her mother that made her a target? Who's the next one?
This book was done extremely well.
Grace was an unreliable narrator, one with character and spunk that pervaded each interaction. She was funny, but mostly panicky about what was going on. She had this deep-rooted fear and uncertainty about what exactly happened and what exactly was going on – it gave the plot edge and also ratcheted up the suspense so much. She was a daredevil, and not afraid to speak her mind – somebody like Reagan from Open Road Summer who was a rebel, but not overdone.
This book is really like the last few books of the Gallagher Girls series, where Cammie's learning horrifying truths and so her mind is kind of all over the place? Yeah. That's not a bad thing whatsoever, just a description.
Grace was also a newbie, and so she regularly encountered some characters that gave the book a lot of life. There was Alexei, the Russian boy who seemed to think that because he was friends with her brother, he had to watch out for her. He was charismatic and quiet, the type who always seemed to pop up at the most inopportune time. And then there was Noah, the boisterous kid with split ties to different countries and a controlling sister to boot. Then there were smaller characters – Rosie and Megan and all of them – that were important to the plot in little, realistic ways that were satisfying to read. It never felt too convenient, but the characters fit together effortlessly.
One thing I would warn readers about is that although the book describes two boys in the synopsis who have relationships with Grace, they're not overtly romantic. It's not a love triangle. There's the potential for one to develop in later books, but it's more about Grace and her development through other characters rather than the relationships between them.
Being a teen on Embassy Row meant that one small step out of line, one instance of acting like a teenager, and you could cause an international incident. Liking anybody, friendships, running into somebody – not so simple when you're representing Israel or Russia. The delicacy of each encounter was handled remarkably well, with a tone that handled the fragility with a smooth explanation that still contained rising levels of tension.
One part that contributed to its success is that it really does recognize the relationships between countries, and how easily they can change. It implies certain truths about Russia and the United States, Israel and Germany. Iran. There's a lot going on here and although it doesn't expressly deal with politics, it's enough to spark my interest. (I love learning about politics.)
It was a fun read. The pacing spiraled deeper and faster until it was perfectly taut. The setting was shockingly masterful, with allusions to a history that felt full of promise for subsequent books. Although I would have liked a little more clarity in the end, the pulse-pounding twists and emotional reveals absolutely riveted me in a way that was highly cinematic.
I loved All Fall Down. It's chock-full of the kind of espionage, cleverness, and empathy that made Ally Carter's previous series such successes, and the promise of the plot has me eagerly awaiting a sequel. I'll be recommending this to everybody, and it's especially a good one for those trying YA for the first time.
Recommended for anybody who loves: the Gallagher Girls series; The Conspiracy of Us; etc,.