Rebel Belle by Rachel Hawkins
Release Date: April 8, 2014
Publisher: Putnam Juvenile
Format: Hardcover
Source: Publisher
Check it out on Goodreads.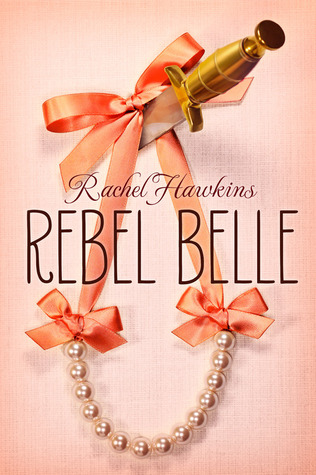 Harper Price, peerless Southern belle, was born ready for a Homecoming tiara. But after a strange run-in at the dance imbues her with incredible abilities, Harper's destiny takes a turn for the seriously weird. She becomes a Paladin, one of an ancient line of guardians with agility, super strength and lethal fighting instincts.

Just when life can't get any more disastrously crazy, Harper finds out who she's charged to protect: David Stark, school reporter, subject of a mysterious prophecy and possibly Harper's least favorite person. But things get complicated when Harper starts falling for him--and discovers that David's own fate could very well be to destroy Earth.

With snappy banter, cotillion dresses, non-stop action and a touch of magic, this new young adult series from bestseller Rachel Hawkins is going to make y'all beg for more.
I haven't read a paranormal book that I loved this much in ages. It was compelling and addictive and fun. Rachel Hawkin's sense of humor and fiesty characters make me laugh so much and just made me really happy to read. The absorbing plot and setup leave me craving the next book in the series, which was a feeling I'd forgotten I missed.
When soon-to-be debutante Harper steps into the bathroom before Homecoming, she's just expecting to touch up her makeup before being crowned Homecoming Queen. But that's not exactly what happens. Instead, she witnesses a battle of all things, and finds herself bestowed with a responsibility she doesn't want. She finds out that she's been passed along the duty of being a Paladin, a supernatural fighter in charge of protecting an Oracle. The only problem? Her charge is David, her childhood nemesis who delights in writing unflattering articles about her in the school paper. He's against everything she works for, and she'd rather kill him than keep someone else from doing it. With Cotillion and the eventual eruption of chaos between her supernatural life and her normal one, things get messy.
The main character Harper was one of my favorites of all time. Between her natural Southern charm and her wit, it was truly a pleasure to read about her escapades. She honestly cared about what she did and she was sassy, but always had genuine affection for those whom she came in contact with. She was a little superficial at times in the way that everybody is and that just served to give other moments even more depth. She was a surprise, that's for sure.
Best of all was her ambition, not for the desire of a particular sort but for the pure want to do things and matter and propel her life as far as she could. She was a perfectionist, which could grate on the nerves of a few of the people she surrounded herself with, but always meant the best. I appreciated Hawkin's description of an overachiever without falling into the standard trope. It was really nice to see a YA book tackle that balance of extracurriculars and life and all of that while still maintaining all the tension that made the paranormal parts sparkle.
In addition, Harper was still struggling with the death of her sister a few years ago. Her parents didn't talk about it much and she tried to fill her sister's footsteps, in a way that would make people see something more than a sister, but Harper herself. It definitely contributed to her perfectionist nature and added some interesting moments. Her character growth was unbelievable.
Harper's relationships with other characters were so tenderly written and crafted beautifully. She had the best friend she hated lying to but couldn't quite help wanting to keep her in the dark; she had the frenemy-turned-friend dynamic that was interesting throughout the book, the boyfriend she'd had forever but wasn't sure how to deal with their changes. All of them were well put together, realistic, and full-on entertaining.Ryan was a sweetie. I really liked him, and I liked that he and Harper were working through things but unsure of how to deal with change. They'd been dating for about two years and best friends which was so nice to see. They had chemistry and were cute, but they also understood that they were growing apart and unsure of how to deal with that. Add in a mythological narrative and the entire thing was starting to unravel.I liked David too - just all of the characters stole my heart in one way or another. He was intelligent and challenged Harper. He went through the book and viewed events with a mixture of amusement and wariness, which lent a refreshing perspective to the book. It wasn't cloying at all, but balanced. I love the enemies-to-friends dynamic so much - it was so lovely that their new way of getting to know each other was mixed together with childhood anecdotes and small rivalries.Other relationships - Bee, the great aunts, her parents - were laid out and leave me hoping we'll see more of them in later books. They added a bit of banter and thought to the otherwise relatively straightforward plot and made it a pleasure to read. I'd love to see further development of the villains and some sinister motivations.
The story was gracefully built around an old Greek story of Oracles and protectors, magic and deception. The contrast between modern times and the tradition that Harper so firmly roots in her daily life was excellent. Hawkins does a clear job of articulating a solid backstory and effortlessly creating a paranormal conflict. I had no confusion whatsoever while reading, but instead eagerly devoured each page. And as for the pacing? It was perfect.
Cinematic action scenes, classic Southern tradition, and lovable characters contributed to a firework of a series start. I can wholeheartedly say that this book was a series that I'll definitely be sticking with and talking about at every opportunity. And man, I just really love the South. I think it's even better than her debut - I just loved everything about it!
Recommended for anybody who loves: Hex Hall; The Magnolia League; Angelfire; Unearthly; etc,.