Top Ten Books I Read Based on Their Covers
Hey y'all!It's Grace. Sorry I've been kind of inconsistent with my blog lately. School has been crazy! Our eighth-grade musical (Thoroughly Modern Millie) has been in the works for our performances on Thursday and Friday night, dance, volleyball, and the end of the quarter has cut down on my blogging time. However, soon everything will be over except for dance and I can blog almost every night of the week! HURRAH!Anyways, Top Ten Tuesday is a meme created by The Broke and the Bookish. This week's theme is Top Ten Books I Read Based on Their Covers. Because although the popular quote is to "not judge a book by its cover", everybody does anyways. Let's give a hand for the beautiful art departments at all the publishing companies! Now, a particular favorite of mine is Harper Teen, but I love all the others too. My favorite cover of all time though, would have to be Fallen by Lauren Kate.
1. Fallen by Lauren KateI'm in love. I think I might have died when I saw this cover. LOOK AT IT! And you simply must see it in the hardcover version. Unfortunately, I let a friend borrow my copy and she dropped it in a puddle and the cover (and most of the book) was completely ruined! I've been on the hunt for a new hardcover copy, but I'm broke. I am determined to get one soon though.
2. Revolution by Jennifer DonnellyThis is one cover that doesn't get too much of a spotlight in the YA genre. I don't know why; I think it's gorgeous. I love the comparison between the painting and the girl with the eyeliner, and the contrast is just stunning. Also, when you see the actual book, you will love the ruffled paper and "ribbon" finish. I just love it.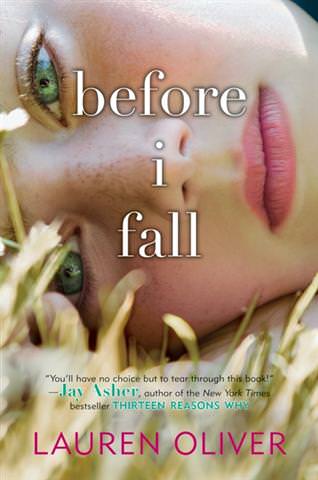 3. Before I Fall by Lauren OliverThis girl's eyes just bore into me every time. They're so beautifully green! She looks almost like she wants to tell you something, and the title intrigued me. Overall, this cover just sucks you in. Once you start reading the book itself though, you won't be able to let it go.
4. Nightshade by Andrea CremerI actually saw this one at the bookstore, but then my sister blocked the way for me reaching for it and refused to let me buy it until she finally just had to tell me that she was getting it for me for Christmas last year. I loved her for it, but I wanted it so badly then! Guess what present I opened first on Christmas morning?
5. Hourglass by Myra McEntireOkay, confession time: I haven't actually read this book yet BUT it's on its way to me now. I did want it because of the cover and I was lucky enough to win it in a contest, which is WHY I haven't read it before now. Although I was extremely tempted to buy another copy just because I WANT TO READ IT NOW!! :)
6. Prophecy of the Sisters by Michelle ZinkNot only are there twins on the cover, but both of their eyes are so piercing. This entire cover just radiates a Gothic, creepy, romantic feel almost that hooked me and made me buy it!
7. Halo by Alexandra AdornettoI'm in love with this cover as well. If this cover was a boy, I'd marry it. It gives a lighter, also romantic, while still intense feel. I really do like how her wings blend in with her hair and the couple is outlined by the Sun. It really does emphasize the angelic part of it, and makes it so great to read. The cover is magnificent.
8. Forgive My Fins by Tera Lynn ChildsI love the makeup for this. It's beautiful and once I actually tried to duplicate the results on a friend. We ended up with kelly green eyes and bright blue lips, and we pretended we were mermaids. What can I say? I live in Florida. Of course I wish I were a mermaid! Actually, I'm still praying that I am....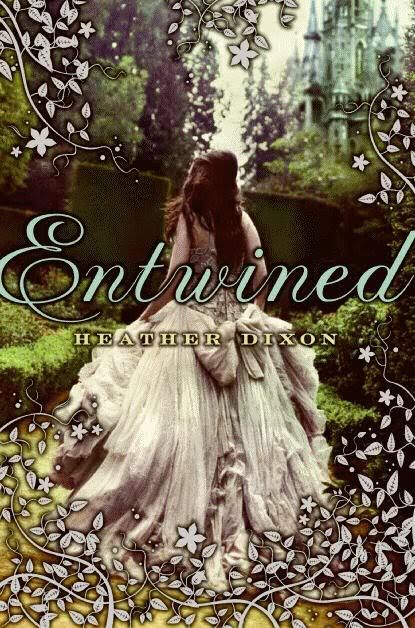 9. Entwined by Heather DixonI have read this book. First of all, this is the type of book that I am talking about when I say that it'd be so much fun to model for book covers. I'm obsessed with this beautiful dress and when you get the finished copy, there is some really shiny embossing on the cover that makes it stand out. It is the perfect cover for this book and even if I weren't already enraptured with the plot, I would definitely take a chance on this book if it were just sitting on the shelf. Actually, I'm even writing a review for this right now!
10. Need by Carrie JonesNot only is this book amazing, but the cover is too! It's incredibly simple, but it makes your heart stop for a second. I just love her gold lips. Plus, it completely conveys the wintery, lyrical, creepy feel of the book.Thanks for reading!Grace