Top Ten Series I'd Like to Start but Haven't Yet
Hey y'all!I'm back today to do a meme that I haven't in a while, but it's one of my favorites. Top Ten Tuesday is hosted by the Broke and the Bookish and is basically where bloggers post their top ten books or series for that particular topic. Today's post is Top Ten Series I'd Like to Start but Haven't Yet and I LOVE this one. There are so many series that everybody always gushes about that I haven't had the chance to read!
1. The Heroes of Olympus by Rick Riordan
Basically, if you haven't heard of Rick Riordan's Percy Jackson and the Olympians series, you're living under a rock. This was one of my brother's favorite series, many of my friends' favorite series, and one that everybody's pushing me to read. I'm always somewhat hesitant when reading spinoff series (I just read the Bloodlines series by Richelle Mead the other week) because I'm worried that it won't be as good as the original. For this one, I know it won't be as good but I still want to read it.
2. The Jenna Fox Chronicles by Mary E. Pearson
I don't know why I haven't read this one yet. I actually have the second book sitting upstairs in my room. It's always one of those books that I narrow down on my to-buy list and it competes with one or two other books. I just haven't actually bought it yet. One of the other ones always wins out. I've heard excellent things even though this one is apparently a little different. I know that this series is one of Kristi's favorites and that definitely influences me to read it, especially since Kristi's taste in books is similar to mine. Maybe next time this one will beat out the other books in the bookstore.
3. Hourglass by Myra McEntire
I've heard pretty great things about this series. The cover is gorgeous and engaging. My twin sister Hannah swears by it and it constantly trying to get me to read it, especially since I do own the series thanks to her. It sounds pretty good, but like the Jenna Fox Chronicles, has simply never made it to the top of my TBR list. I would love to read it, especially since I'm a huge fan of paranormal.
4. The Forest of Hands and Teeth by Carrie Ryan
I'm ridiculous for having not read this. It seems like everybody's read this. I started out as a blogger on Random Buzzers and everybody was always reviewing this or gushing about it. I still see tweets about it and discussions about it. Personally, I'm not a huge fan of zombies but apparently this series is really well written. I love the title and the cover. If anybody's looking for Accelerated Reading points, I'm pretty sure this one is worth quite a few as well! I don't own any of the books in this series and my local bookstores don't have copies but if I ever get the chance, I feel like I need to read this to consider myself "well read" in YA.
5. Artemis Fowl by Eoin Colfer
Most bloggers I know would be absolutely horrified if they knew I hadn't read this series. It's more MG-geared than YA-geared but I know my brother still loves the books. My family owns the series thanks to my brother devouring them. I feel like I definitely need to be in the mood to read it but I definitely need to soon. All I really know is that Artemis is a mastermind and that it involves faeries, but I don't really know any specifics.
6. Dream Catcher by Lisa McMann
Okay, this one is cheating a little bit. I read half of the first book, but I was only about thirteen at the time. I wasn't a huge fan. Now that I have a few more years tucked under my belt, I'd like to attempt it again. I know a girl who absolutely worships this series and so I'd like to give it another try. I'm actually very interested in dreaming- and sleeping-based books like this series and Lucid so I'd like to try this series again and see where the dreams take me. I've also heard that Lisa McMann is a great author and is fantastic with making her books slightly creepy, which takes a lot of talent. If you can freak me out in a book, I consider it a job well done.
7. Bright Young Things by Anna Godbersen
I have an obsession with the 1920s. I'm consistently convinced that I was born in the wrong time period and I would love to have been alive during the Jazz Age. Books like these are how I live vicariously. So many people I know absolutely SWEAR by these books and are always pushing me to read them. Plus, I'm pretty sure it's not just drama - I think there also might be danger, which is a definite plus. I've heard good things and great things, but some people also really don't like these books. It seems about half and half, so I'm a bit hesitant to dive in. I loved other books set in this time period so I don't know about these. I've been debating giving them a try and I just might.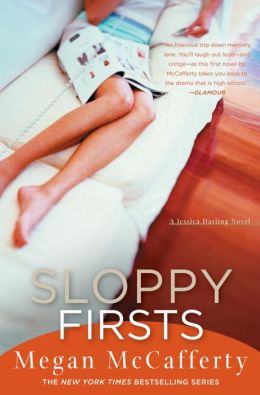 8. Jessica Darling by Megan McCafferty
For all the other series, people would be shocked that I haven't read the books. For this series, I know some bloggers and readers who would kill me. I HAVEN'T READ SLOPPY FIRSTS? WHAT IS WRONG WITH ME?! I've heard incredible incredible things and from what I hear, this is one of those books that will change you. It's a foundation of being a YA reader; it's a bible of the teenage years. The books that will always be a part of me were The Winnie Years books by Lauren Myracle. This seems like the older version of those and I really really really want to read them. Out of all the series on the list, this is the one that I want to read the most. I need to read this series.
9. The Luxe by Anna Godbersen
Also by Anna Godbersen, The Luxe series looks like a delicious and dramatic read. Most of the time, I like more serious reads. Intricate plots and action-filled pages, or a sizzling romance and emotional character development. But sometimes I just want a guilty pleasure read. A frothy historical read. This is that series that I always see in the hands of girls who are readers, but not intense readers. The average girl I know might have read this book. The history and friendships and betrayals? Count me in. I'm saving this series for when I next need a distraction from my life. Plus, the covers are absolutely gorgeous.
10. Birthmarked by Caragh O'Brien
There are so many dystopian reads clogging up the market and so many that I haven't had the chance to read. This, I've heard, is one of the best. It's one of those series that I see everywhere - at Barnes & Noble, in the airport, at the library - but I never seem to read. There used to be so many series like that for me - Vampire Academy, Evernight, Shiver - and I've slowly chipped away at them. Now, there are so few older series that I haven't read and I'd really like to change that. The cover is haunting, the premise sounds amazing, and the reviews praise these books. I should definitely make a point to read these soon.
I hope y'all enjoyed! There are so many series that I want to - and need to - read soon, and so many more series that I've read the first book of and need to continue! Are there any series y'all want to start? Leave me an answer below in the comments or tweet me! Have a great week!Grace